ATLANTE LANDS IN CARREFOUR STORES IN ISRAEL WITH A NEW LINE OF SWISS CHOCOLATE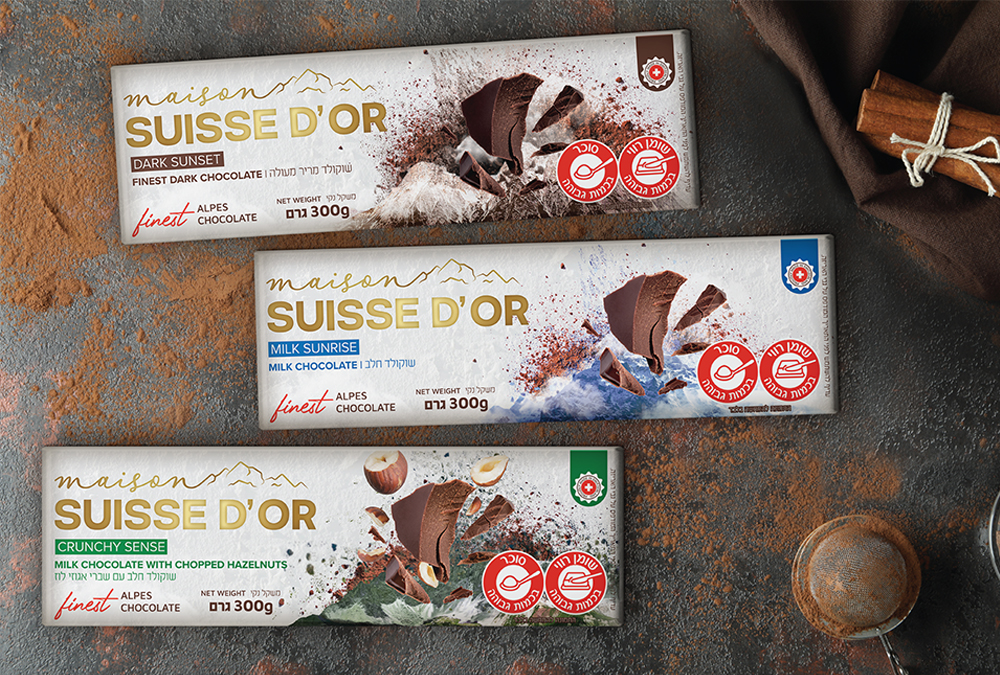 9 September 2022
Atlante is a strategic partner of the main Italian and international food retail chains. A few months ago, the company seized the great opportunity to enter the Israeli market by collaborating with a top client such as Carrefour.
Building on its decades of experience in the chocolate market and on the excellent performance of both private label and branded Swiss chocolate bars that are already on the shelves in Italy, Atlante has launched Maison Suisse D'Or, a new line of own-brand Swiss chocolate bars, on the Israeli market.
After a preliminary study made possible by our contacts and thanks to the work of the sales force on site, the best product formats and types for the Israeli market were selected, resulting in a complete assortment of classic flavours such as dark chocolate, milk chocolate and milk chocolate with hazelnuts. All Maison Suisse D'Or bars are made by a leading Swiss chocolate manufacturer, the famous Alprose chocolate shop. They also bear the Kosher quality mark, an essential requirement to meet the nutritional needs of the Israeli market, which emphasises the importance of product quality and authenticity through rigorous standards and scrupulous preparation processes.
Available in different colours according to the taste of the bars, the modern design on the paper packaging recalls the authenticity of Swiss chocolate. In the foreground are the snow-covered Alps with a contemporary graphic treatment featuring an explosion of cocoa and chocolate chunks that entice potential consumers and awaken their interest in the product.
To reinforce its visual impact, a careful choice was made to display the product prominently within the aisles of Carrefour supermarkets, using on-counter displays and promotional islands, supported by flyers and in-store communications during the launch period.
"The project stemmed from the need of the Carrefour supermarket chain in Israel to launch a line of Kosher chocolate products," says Guido Lanzarini, Business Unit Manager at Atlante. "This opportunity materialised thanks to our detailed knowledge of the chocolate market and the experience of our staff in Israel. We were able to identify the ideal solution for this client and select the most attractive options for the end client. We strongly believe in the success of this launch, which will be accompanied by promotional activities designed to advertise the product on multiple communication channels, including several Israeli newspapers. We also have a marketing plan specifically designed to launch the new Maison Suisse D'Or brand, which we would like to grow by expanding our offer with new products, flavours and formats in the near future".