Atlante expands its product range offering a premium line of Swiss chocolate tablets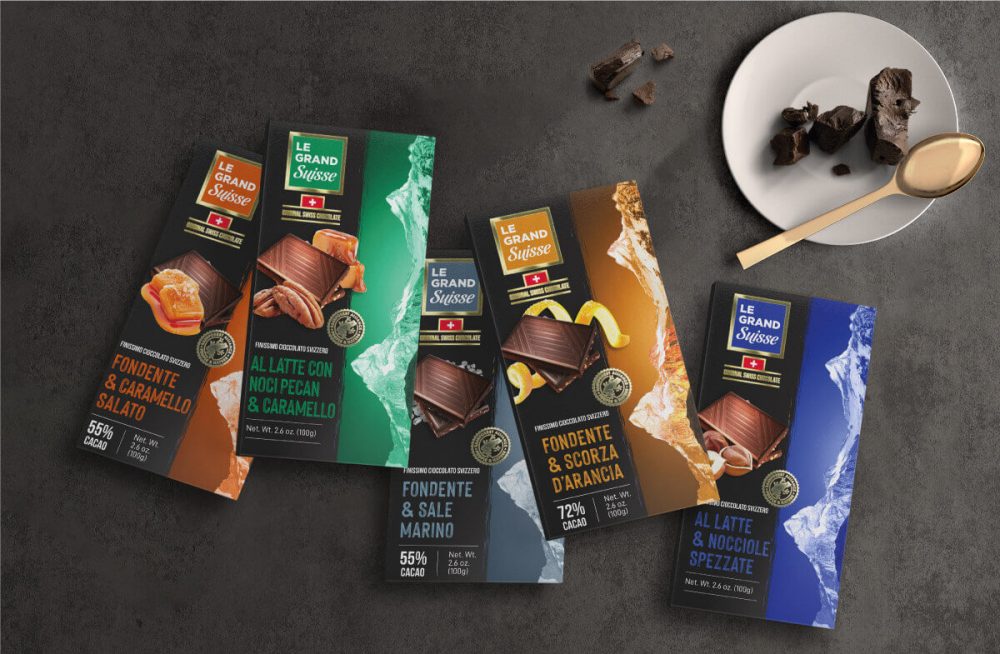 26 April 2021
In line with market trends highlighting the excellent performance of Swiss chocolate bars, Atlante expands its range of confectionery introducing a premium line of Swiss chocolate tablets.
Italians and their passion for chocolate
In Italy, chocolate was, and still is, a product everyone loves. In 2020 alone, the market of chocolate tablets reached a turnover of 531 million euros, recording an increase of +9% compared to 2019. Even during the lockdown, consumers chose to enjoy a rewarding moment by selecting premium chocolate tablets.
Among the different types of tablets, Swiss chocolate tablets recorded significant growth, with market leader Lindt showing a +17% growth in value in 2020.
Atlante: a specialist in Swiss chocolate
Atlante, active on the chocolate market for several years through private and fanciful brands of Swiss chocolate tablets, showed excellent performance, reaching a +30% in value in its sales of Swiss chocolate in 2020. Strengthened by the success of its products and attentive to the trends of a growing market, Atlante is pleased to introduce the new line of premium Swiss chocolate tablets created under its brand name: Le Grand Suisse.
All the tablets will be produced by Atlante's historic Swiss chocolate maker, the famous Frey chocolate shop, a synonym of Swiss chocolate quality and guarantee of a product full of the authentic flavours created by Swiss chocolate masters.
Le Grand Suisse: a line of Swiss chocolate bars designed in every detail
Certified cocoa beans and selected ingredients join forces to create an assortment of top-quality chocolate tablets for a line designed down to the smallest detail, from the choice of flavours to the packaging.
The Company's Swiss chocolate tablet products encompass a varied and comprehensive assortment featuring traditional chocolate flavours such as 75% and 85% dark chocolate or milk chocolate with hazelnuts but also sophisticated combinations, such as dark chocolate with orange zest, dark chocolate and sea salt, dark chocolate and salted caramel, or milk chocolate with caramel and Pecans. This creates a full range of seven irresistible flavours, all to discover.
Available in various colours according to the various chocolate flavours, the packaging, featuring an elegant cardboard box with gilded finishes, reminds of the irresistible Swiss chocolate authenticity but with a modern and captivating design. The compelling graphic design of the packaging focuses on the outlines of the snow-covered Alps against a dark background and, in the foreground, an inviting image of a chocolate square and its ingredients that invites consumers to give into a delicious temptation. The logo is easy to remember and highlighted by a golden frame featuring the Swiss flag under it.
The packaging is the result of a careful and accurate design process to create a product line capable of standing out on the shelf and inviting consumers to reach for it. All the chocolate tablets are also available in an elegant display that guarantees greater visibility, making them easily recognizable and encouraging consumers to purchase.
Rainforest certified cocoa, for a world where man and nature live in harmony
The packaging of Le Grand Suisse chocolate tablets also boasts a gilded version of the new Rainforest Alliance certification logo. All cocoa in our chocolate products is certified by the new Rainforest Alliance, established in 2018 from the merger between Rainforest Alliance and UTZ. The goal of this merger was to combine the strengths of the existing UTZ and Rainforest Alliance organizations into a stronger, more closely shared certification standard aligned with current challenges to create a better future for people and nature. The new Rainforest Alliance ensures that certified products comply with a range of high standards, including new measures to improve agricultural practices, fight climate change, preserve forests, protect the human rights of farmers and workers, and improve their livelihoods.
Atlante is proud of its commitment to people and the environment through its certified supply chains, a commitment embodied by its Le Grand Suisse Cocoa certified Rainforest Alliance products.
Le Grand Suisse chocolate line: a promise of Swiss quality guaranteed
Thanks to the certified cocoa, high-quality ingredients, a varied and comprehensive assortment of chocolate flavours, and a carefully designed packaging, the new line of genuine Swiss chocolate tablets Le Grand Suisse represents a premium product for Atlante; a product carefully crafted in every detail to bring this irresistible chocolate in every store.