New GO FOR FIT Greek High Protein Cheese cubes hit the shelves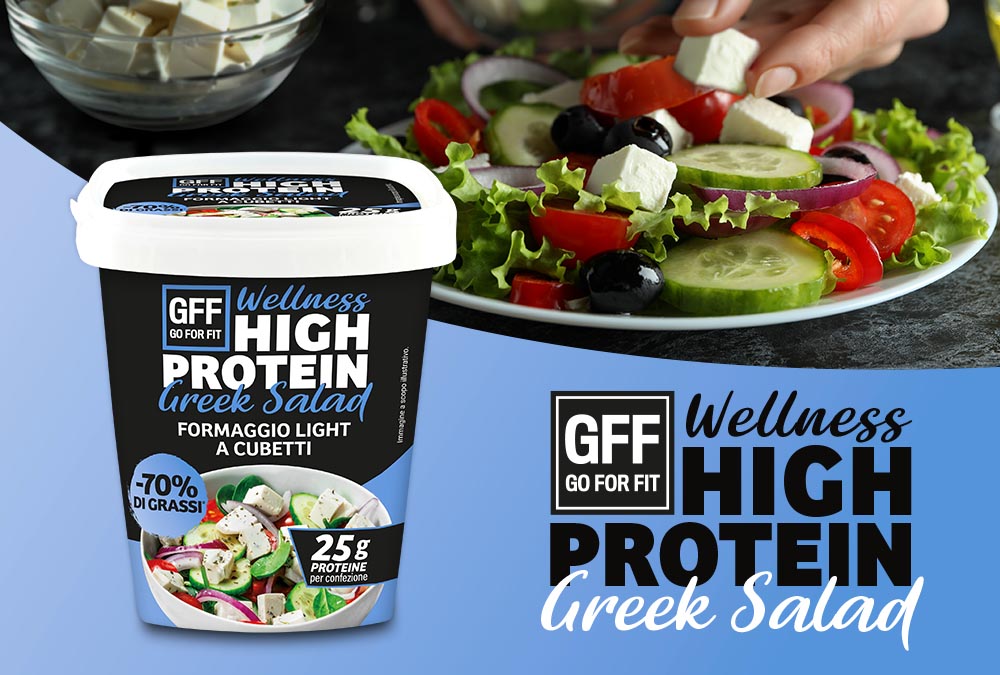 22 August 2023
Following the success of the numerous HIGH PROTEIN product ranges launched over the past year, and in order to meet the growing consumer demand for products that support daily well-being, GO FOR FIT– one of Atlante's flagship brands – has enriched its product portfolio with Greek High Protein Cheese. This high-protein, low-fat product combines innovation and performance, and was designed for those who want to consume an adequate amount of daily protein without compromising on taste and convenience.
GO FOR FIT's High Protein Greek Cheese is ideal for healthy salads. These tasty Greek cheese cubes are high in protein (an impressive 25g per 125g packet, half the recommended daily requirement), lactose-free (made from semi-skimmed sheep's and goat's milk) and very light (70% less milk fat than a light Greek cheese). Try them in your salads or as tasty cheese bites in line with your wellness and fitness goals!
Atlante has entered the world of high protein following the category's growth trend with a complete range of high protein products under the GO FOR FIT brand, to which it continues to add new productsthat register constant success. The GO FOR FIT range already has protein products in numerous sales outlets throughout Italy. It is supported by an integrated marketing strategy to raise consumer awareness of the products and give consumers advice on how to add GO FOR FITHIGH PROTEIN products into their diet without sacrificing balance and taste.
Michela Mastropasqua, Category Manager, commented on the range and the new launch in an interview in the July '23 DM Magazine: "The brand immediately conquered shelf space and has dramatically increased sales and consolidated its positionin one year. The latest novelty is the GO FOR FITGreek High Protein Cheese, which combines innovation and performance. High in protein and low in fat (-70% compared to a light Greek cheese), it was designed for those who want to consume an adequate amount of daily protein without compromising on taste and convenience.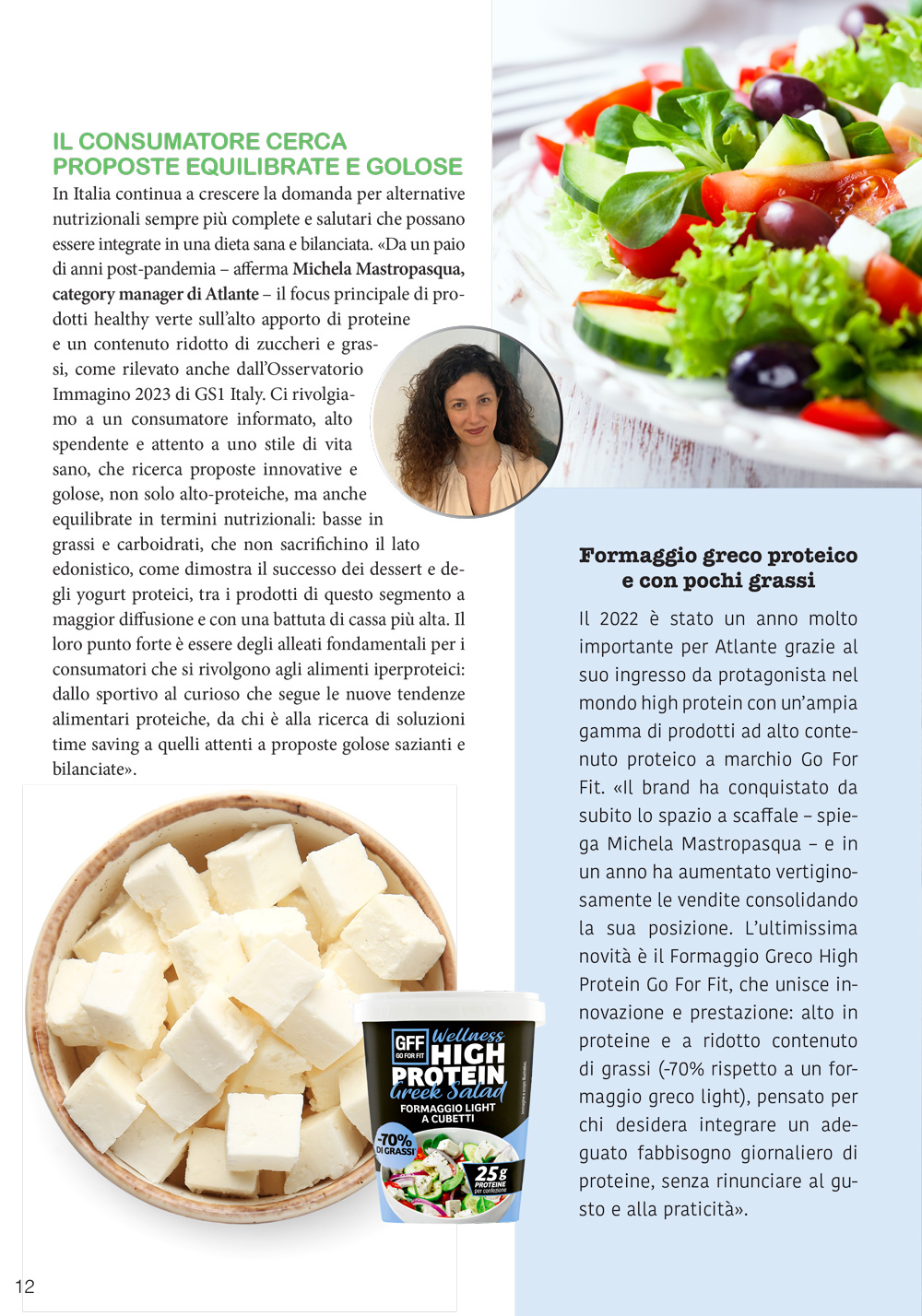 A segment that stands out in the 'High Protein' segment
In 2023, high-protein products remain very popular, confirming their position as part of a consolidated trend and conquering an increasingly large space in the trolleys of Italian families and consumers who are looking for nutritional alternatives that can be integrated into a healthy and balanced diet. 'Protein' is the number one claim in the 'rich-in' world.
Protein products sales increased significantly in the past year (+9% in value vs. 2021), generating sales worth €1.3 billion in 2022. Riding on the protein phenomenon, many companies have expanded their offer of products featuring this claim on the label to meet the growing consumer preference for these product types, as they are proving increasingly receptive to innovative and nutritionally balanced proposals.
About GO FOR FIT
The average consumer is increasingly busy and well-informed and is attracted to high-protein products that have the potential to achieve great levels of success due to their ability to bring balance to their diet thanks totheir high protein content, without compromising on taste and convenience. GO FOR FIT protein products are a perfect fit for this scenario.
GO FOR FIT is an Atlante brand that encompasses a vast assortment of products in step with market trends, suitable for all consumption occasions and ideal for those seeking a higher protein intake to make their diet more balanced.
The GO FOR FIT range is cross-categorised and supported by multi-channel marketing activities. We are online with a dedicated website and havea lively digital following on our Instagram and TikTok pages.
STAY TUNED FOR THE LATEST NEWS FROM THE GO FOR FIT RANGE!
 GO FOR IT, GO FOR FIT