Import-export of quality food: how Atlante has become a nodal point for supermarkets.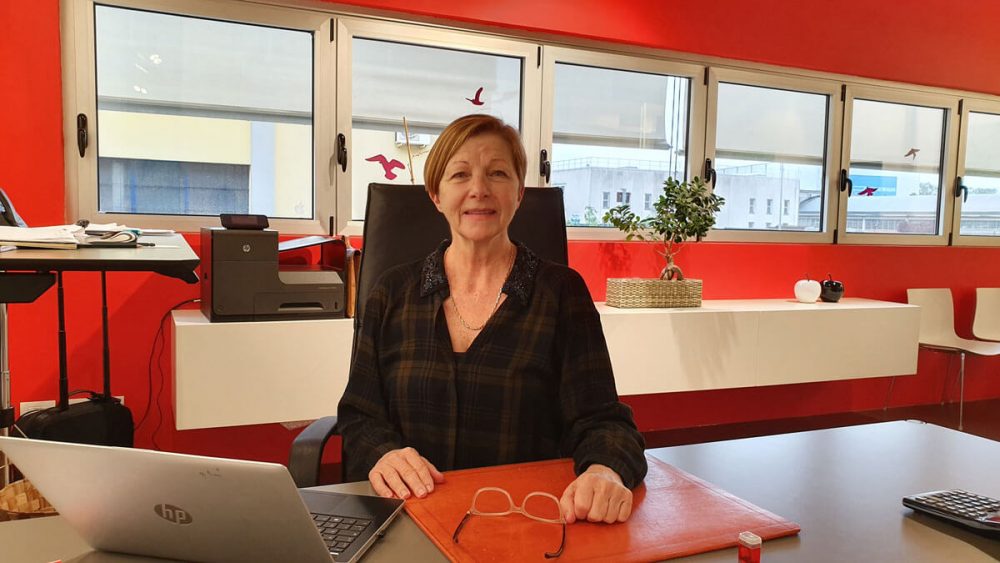 4 July 2019
The interview of Natasha Linhart for la Repubblica, by Patrizia Capua.
Atlante is a junction between a passion for health and a long journey through the culinary world and the food industry in search of specialities capable of satisfying the demands, in terms of both quality and price, of the Italian market. It is headed by Natasha Linhart, who, in 2002, established the company and is now its CEO. At her side when the company was founded was her life-time companion Federico Nanni, a member of the Italian national swimming team and an industrial mechanic.
Before becoming an entrepreneur, Natasha Linhart worked for Nutricia, a Dutch multinational specialized in baby food under the Milupa brand that, at the time, could only be bought in pharmacies and along with products for people with swallowing problems. She was responsible for retail. "For me it was a real university, I had a boss who taught me a lot, he was a mentor for me. But I felt I was an entrepreneur, I wanted to start my own business, so that's what I did. With a bit of luck, courage and some cheek." She contacted companies in Europe that produced food for people with intolerances, her son Nicolai had been allergic to milk. "I kept saying to myself: why do you have to spend ten times more for these special products? To be able to sell soy milk at the same price as cow's milk became my project, my mission." Soy-based and vegetarian products in general now constitute her company's strengths. "These were years when Italy's supermarket chains were having difficulties entering into a dialogue with foreign producers, so that's what we started doing."
Atlante employs 58 people, over half of them women. It is active in Switzerland, the United Kingdom, the United States, India and Japan, making some 45,000 deliveries each year and recording a turnover of 150 million euros. Its clients in Italy are Esselunga, Coop, Conad, Unes, Carrefour, Pam, Auchan, Aldi, MD, Eurospin, Iges.
Natasha Linhart was born in Geneva in 1957 and is the second of five children. Her father, Jiri, a Czech swimmer, took advantage of the London Olympics to escape an authoritarian regime and left his home country in 1948 to seek asylum. "Forty athletes went, only two returned home." George, that was his European name, was naturalized British. He did his university in England, winning a scholarship at Oxford, then became a nuclear physicist. He met Susanna Basia Terrell, a painter, when she was 18 and still in school. "To make money so that he could live in London, my father used to pose nude at the art school, he had a great figure. They fell in love, they got married and after nine months my sister Anna was born. The first serious job he was offered was with CERN, in Geneva. I came along, then two other sisters and a brother, Ivan, who is ten years younger than me."
Between the ages of three and ten Natasha Linhart lived in Frascati, where her father had moved to in order to work on the synchrotron, heading a group of international scientists carrying out research. "Then we left, we lived in several countries, from France to the United States. I continued my studies in England but before finishing them I met the father of my two children. The eldest is Susannah, I named her in honour of my mother, she lives in Geneva where she is an editor for the United Nations. A year later Nicolai was born, he now works as a mechanical engineer in Spain. I have four grandchildren."
The relationship with the children's father ended very quickly. "I married Federico Nanni, he is the important man in my life, the man with whom I lived for thirty years. When I met him, he had a mechanical company in the outskirts of Bologna, at Pieve di Cento, which he later sold."
The emotional and professional bond led to success. Atlante is a limited company whose business is based 55% on imports to Italy from Europe, as well as South-East Asia, and 45% on the export of Italian specialities to the whole of Europe and the United States. "And now we're starting big adventures in India and Japan. Last year we started with fruit and vegetables, in India with apples from Trentino Alto Adige and Piedmont and in Japan with pasta made from pulses and Lambrusco. The foreign part is growing, by next year we will be sending more products abroad than we will be importing into Italy. The Italian products range from the basic tomatoes for spaghetti to specialties like Sicilian olive oil, Genoese pesto, balsamic vinegar, Taggiasca olives, wines and truffle from Alba."
The headquarters of Atlante are in the small district of Casalecchio di Reno, nine kilometres from Bologna, which is also where Coop Italia and Conad are based. "I really enjoyed the years when Federico and I were working together. His approach was more economic and financial, mine more creative and artistic. The combination worked really well, and I am sure it would've continued to do so. When he passed away three years ago, the company was a third of what it is today. I think that's because I have really let loose the creative impulse, I have set up some small start-ups and I've given those who work with me the opportunity to develop their ideas. My husband was a bit more conservative. That said, we might've had a more tranquil life."
The real jump for the company happened in 2012, when the Swiss group Migros Industry, one of the most important multinationals in the food sector, showed an interest in Atlante. "A joint venture with international shareholders was an opportunity for development." So Migros holds 20% of the shares but Atlante's soul stays in Bologna. "It was an important moment, it gave us great prestige, Migros is a fantastic company and useful for starting up a dialogue with companies abroad. We work in the United States with Kroger, a retail chain, and in the United Kingdom with Sainsbury's, the second-largest supermarket chain in the country. For the past three and a half years we have been acting as their eyes and ears with regard to the Italian market and we've been managing the purchase of all their Italian products. Brexit will of course change things because everything will become more bureaucratic and difficult, and Italian products more expensive."
She travels constantly. "I am always going around the world strengthening relationships with our partners, whether suppliers or clients. I spread ideas, sometimes my own and sometimes those of my colleagues. All of them are good. When I'm at the office, I meet with my team every day and we talk about what's new. I recently returned from Thailand, where we have four contacts. Together with our manager for imports from South-East Asia I visited Thaifex, an incredible window on latest-generation foods, including vegetable proteins, insects, fish farmed 1,000 metres below sea level and sustainable urban agriculture. We must be able to go down other roads in the revolutionary search for alternatives to protein."
In order to create start-ups, Natasha Linhart makes use of the whole of the company's infrastructure to create specific projects on products that elude the usual standards. "At the moment, for example, we are assessing the rice supply chain and we've understood that there's a kind of rice cartel. We've discovered that the value of rice doesn't lie with the farmers and the sales representatives. It lies with those involved in the taxes, the logistics and in the management of the cultivation. We are going to try to come up with a winning project. This might mean the use of a small Italian company, one that isn't part of the cartel, perhaps a small business along the Po river, maybe one near Ferrara. We will help it to put in place an efficient rice-processing and packaging system. We then do the purchasing of the best rice, like the one that comes from Pakistan, which we bring to Italy to be processed by a local producer, using local experience and professionalism. We already did this, some time ago, with potatoes, we're doing it at the moment with apples. We've dedicated a year to studying where the process is affected by useless and exaggerated costs. We've developed yet another project, called "Little Italy", for Migros: we took 50 small Italian companies that produce oil, vinegar, biscuits, tarallucci and wine, companies that have incredible resources but that don't know how to develop further because they don't speak English and don't know how to relate with the foreign market. We offer our clients the possibility of recreating, in four square metres of their retail space, a version of a 1950s grocery store, stocked not with well-known brands like Barilla or Ferrero but with smaller, high-quality brands and in which shoppers can find Sicilian caponata, for example, something that few people if anyone knows about but that is part of the universe of made-in-Italy delicacies."
She likes what she does so much that she hardly talks of it as work. "The world of food is fantastic, and it is in full development. Certainly, I like to think that I contribute an ethical element to the world by being involved in something that in some way is of help and by supporting people to achieve what they love. I have come to know a small Sicilian company that used to sell its products only locally. Since it has been on Swiss shelves and had greater visibility, it has improved many times over – it has invested, employed more people, the owner's son has come on board. It hasn't made a profit, not yet, but there is tons of enthusiasm for the work. Some opportunities come to me, I go after others. The son has since introduced me to a friend who makes a superlative sausage."
Natasha Linhart has been vegetarian for many years. "I've never liked meat. There are alternatives, from vegetable proteins to reconstituted soy. Just think that Bill Gates' vegan start-up, Beyond Meat, is now worth billions. The world is moving in the direction of meat alternatives and I intend to ride this wave because it is the future."
Sport has always been in the family and, for her, especially swimming. "Every day, at 7 in the morning, I go swimming for 45 minutes. I believe in it and it does me good. Even when I'm abroad, I go to public swimming pools all over the world. I also try to walk, because I think it's healthy. I've become dependent on this stupid step counter and am managing to keep up a decent average. When I go back home, I try to avoid sitting straight down on the sofa. I like cooking, my friends like my experimental dishes, or at least that's what they say. I keep an eye out for new chefs, I always go to see new food places that might be interesting."
Travelling is part of her life. For holidays, to Sicily is her first choice, she adores going to Palermo, and to Agrigento for the temples. She likes the whole of Italy, Rome in particular. Whenever she can, she tries to bring the family, her four grandchildren, together. "Fortunately, my children have followed their passions, I've wanted to give them the freedom to choose." And, she announces victoriously, "this summer we will go together to Greece."
The latest book she has read is Shantaram, an autobiographical novel. "India interests me because of the people, I am really interested in how this country of hundreds of millions of inhabitants, who were hungry but who now experience some situations of deep poverty but no longer suffer actual hunger, has managed to make enormous steps forward, showing itself to be a model of resilience. And I also look at it through the lens of business. During the past season we sent 30 containers of apples from Trentino and this year, after the upcoming harvest, we will send 300."
The secret of the company's success lies in involving people in projects. "They're all great workers, I surround myself with capable people, it's a good trick. My competitors? I have thousands of them and yet none at all because no one does exactly what I do, with my same portfolio of opportunities. The problem is that there isn't much time. If I could go back, I wouldn't have had my children so young. I would've been more mature for them, I would've been able to give more."
She lives by herself and prefers a minimalist style. She doesn't wear makeup, finds her clothes on Amazon and always wears the same models of shirts and shoes. "My obsession at the moment is really to find a way to give some sense to everything we're doing. On a basic level, what we do is buy and sell stuff, but I would like to cultivate a deeper meaning by, for example, putting on the table ingredients that don't harm people and perfecting the work environment so that all my 58 staff love being here. My employees have a higher income (the entry-level salary is 30% higher than the average), they have special benefits, including a membership to the gym, I organise a group weekend trip each year, we do activities together, for example we take part in a relay race in which everyone participates. To manage to bring together all these concepts is a mission for me. The fact of having these values is positive but I aim for much more, and I don't use shortcuts to sell more. I think I'm a decent person."