Covid and Brexit: insights from the food business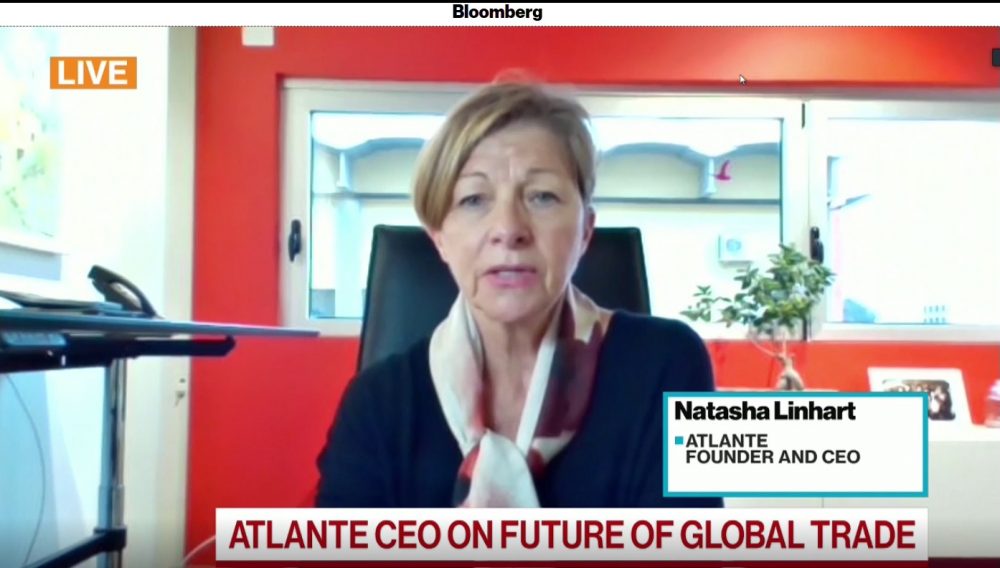 12 October 2020
During the interview with Francine Lacqua for Bloomberg Surveillance, Atlante's CEO Natasha Linhart shared her view as a food business entrepreneur with regards to the implications of the current Covid and Brexit situation.
Covid and Brexit: managing uncertainty while delivering food to UK shelves
Atlante's CEO Natasha Linhart stressed the necessity of managing uncertainty and having to prepare for multiple scenarios.
With Covid cases surging all over Europe and the fear of new lockdowns driving stockpiling, producers need to plan but must be careful in making sure their output is not excessive.
While Covid is undoubtedly challenging from a food distribution point of view due to the consequences of panic buying, it is Brexit that poses the highest risks from a business perspective as Brexit regulatory requirements remain unclear. The fear of border controls, trade tariffs and bottlenecks in supply chain only contributes to increased costs, shortages in store and ultimately to convincing producers of food that the UK is too difficult a market to focus on. Natasha Linhart also commented that Atlante's exclusive partner in the UK Sainsbury's has been of tremendous help in trying to understand what a no-deal Brexit might mean and that the two companies have been working together for the past 2 years to prepare for various scenarios and continue to feed the nation.
Saving the Panettone as we head towards Christmas
Heading towards Christmas, winter and bad weather add extra challenges to the mix. Historically Atlante has always increased the stock in the UK to mitigate the backlog which often occurs in ports as the festive season approaches. We have already delivered a lot of our typical Christmas products, such as seasonal cakes and confectionary, to our depos in the UK to make sure UK consumers can enjoy delicious Italian specialties over Christmas. The worry is for chilled products such as cheese which have a short shelf life. As a food business, the focus remains over the accumulated stress on supply chain caused by the combination of Brexit, Christmas and Covid.