Coconut water Jungle Vibes: all the power of super foods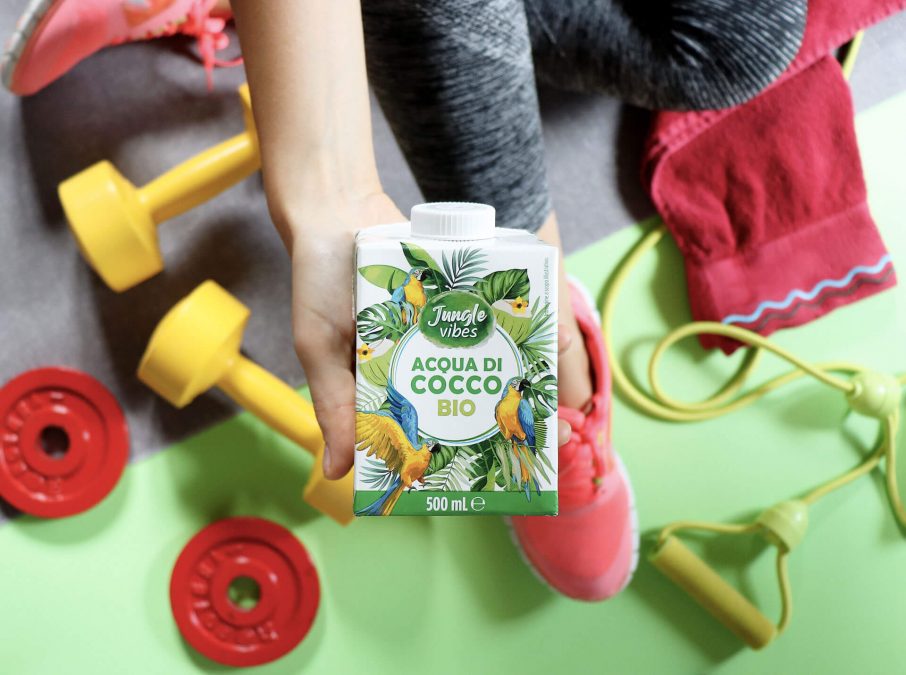 8 October 2020
The trend of super foods
True stars of recent years, super foods are considered allied of well-being, much appreciated by consumers, both on their own and as ingredients.
Nielsen Observatory Imagino identified the 26 most common super foods in Italy, estimating a total value of more than 1.4 bln Euro (as much as 5.5% of total food) across approximately 5,900 products. Super foods have been sorted into six main categories by the investigation of Imagino Observatory. In particular, you can find super fruits such as almond, blueberry, coconut, coconut water and avocado, followed by super cereals/flours, such as spelt, oat, quinoa, kamut, rice flour, rice oil, corn flour and wheat germ. Then, there are the sweeteners, represented by cane sugar and stevia and the seeds, such as flax seeds, pumpkin, chia, hemp and sesame. Last but not least, you can find spices such as cinnamon, turmeric and ginger and the superfoods such as Goji berries, spirulina algae and matcha tea.
Coconut water, a successful super fruit
Among the different categories, the most important sector is the super fruits one, which in Italy has a value of 762 million euro on its own. Coconut and coconut water belong to this category. In particular, in 2019 coconut water had a growth in the sales by +7.4% and, along with avocado, is among the most successful super fruits, even as an ingredient. Coconut water is a natural product quite popular among consumers: extracted from green coconuts, it can be considered as a natural isotonic drink thanks to its composition low in calories and naturally rich potassium. These features make it an ideal regenerating drink after sport and for a balanced diet.
Jungle Vibes Coconut Water, 100% organic wellness
Always up-to-date with current trends, Atlante is on the market with Jungle Vibes coconut water. 100% pure, preservative-free and gluten-free, Jungle Vibes coconut water is extracted in Sri Lanka directly from the core of green coconuts, well-known for their unique sweetness and proceeding from organic, certified, GMO-free agriculture. Thanks to a very strict control of the supply chain, carefully supervised by our quality team, Atlante ensures safety in each passage of the production chain, from collection to packing, which takes place in Italy.
Even the packaging has been carefully considered in each detail to obtain a recyclable carton made of Tetrapack with a fresh and modern design which recalls a tropical jungle with colourful parrots and large, green leaves. The handy 500ml format makes Jungle Vibes coconut water easy to carry, ideal to always have a short refreshing break: suitable after physical exercise but also perfect in a healthy and balanced diet for creating light and tasty recipes, such as smoothies.
Jungle Vibes coconut water is also supported by an integrated digital strategy which includes a dedicated website with many interesting news, a Facebook page and an Instagram page where sharing opinions and recipes: Atlante strongly believes in media support to promote and communicate this fresh and modern line, in line with a curious and dynamic consumer target.