Atlante Home took part in Homi 2021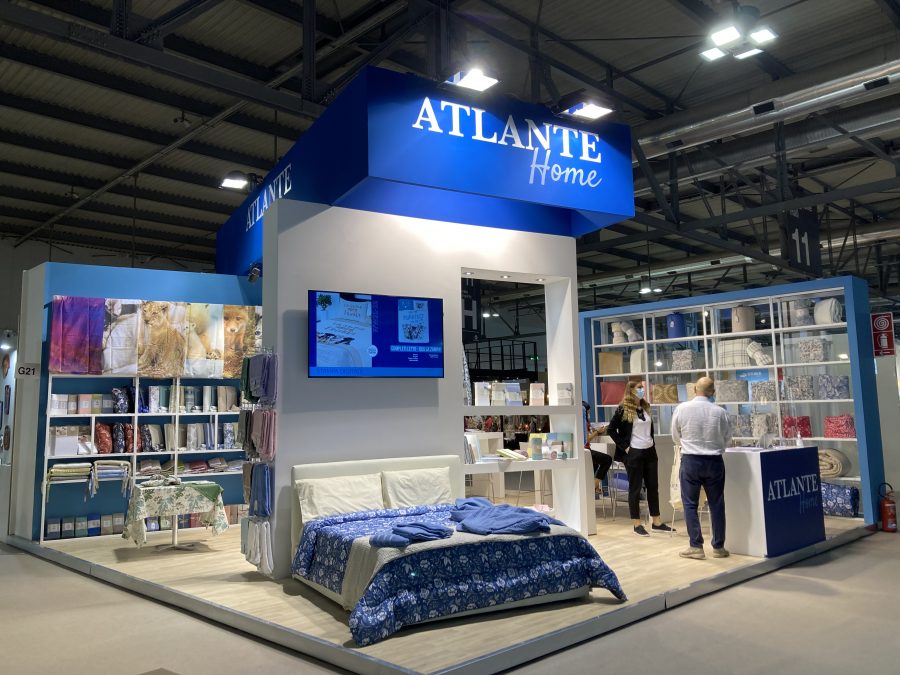 30 September 2021
With its first participation in the Homi fair, Atlante Home successfully placed itself in a national and international context: in fact, the turnout at our stand was great, where it was possible to see our collections and meet our team.
Concurrently with the Supersalone in September 2021, Homi, the fair dedicated to home decor, took place in Milan: a special edition that symbolizes a new start in which the home has become the center of everyday life.
The September kermesse saw the participation of various national and international stands that presented novelties and products of different types, ranging from furnishing accessories, decorations and objects for the home, up to textiles, essences and fragrances.
During this special September edition, Atlante's textile division, Atlante Home, was pleased to host its customers and visitors in the Design and Retailer Inspiration section at stand G21-H22 in hall 11.
Active for several years in the textile sector, this was the first time that Atlante Home participated in the Homi fair, taking the opportunity to present itself in a national and international context, at the forefront of the world of home decor.These were days full of meetings in which we were proud to present the new autumn-winter 2021/2022 textile collection and the new catalog of the spring-summer 2022 collection. At our stand, it was possible to touch our products, see our fantasies and get to know Atlante Home textile team. Among different types of home textiles, the colored patterns made in digital printing stood out as a flagship of our collections.The organization and construction of the stand were the result of a great team effort, the results of which were very satisfying."The fair went far beyond expectations in terms of attendance. We have received many visits from all over Italy and abroad. There was therefore a great satisfaction from us and a great response from the public who liked the stand very much" commented our Key Account Manager Textile, Matteo Morando. There were also many positive impressions from Maria Alonso, our Textile Product Manager, and Rachel Murphy, our Planning and Merchandasing Manager, who confirmed the influx of visitors, including foreigners.A large participation, therefore, despite the pandemic situation and the proximity to the next date of the Homi that will be held in January 2022 and for which a greater number of visitors and stands are expected. Ready to renew the success of this edition, Atlante Home will also be present in January, with many innovations to discover and the new autumn-winter 2022/2023 catalogue.