Atlante expands its assortment of greek products in large-scale retail stores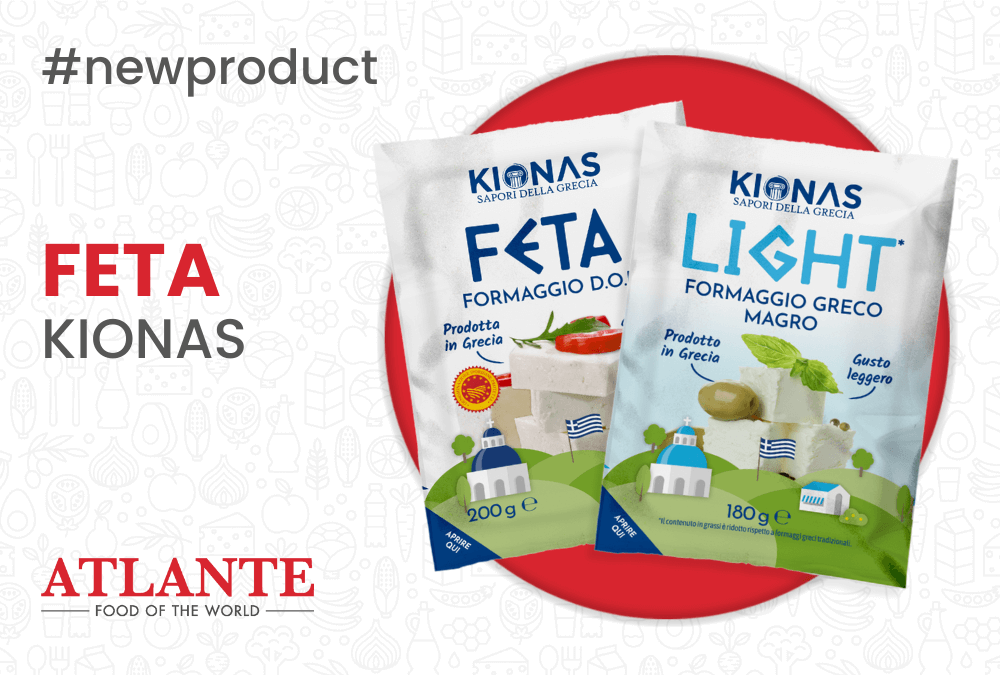 18 July 2023
Atlante enters the fresh cheese section in supermarkets with two new products under the KIONAS, SAPORI DELLA GRECIA brand.
In recent years, Greek cheeses have conquered the palates of Italian consumers thanks to their distinctive flavour and versatility in cooking. The growing demand for this type of product has led the market to diversify its offer, with different products and flavours to please even the most demanding palates.
In Italy, the feta market is growing steadily, registering an increase of +23% in value over the previous year (Nielsen data: AT June 2023)
Atlante, a Greek product specialist
Atlante, a specialist in Greek products, has been leading the Greek speciality market for more than 10 years with the Pavlakis brand and several private labels belonging to major Italian retailers, offering a wide assortment of creamy yoghurts, tasty Greek cheeses, authentic PDO Feta, and traditional sauces.
Atlante brings an authentic taste of Greece to the market, as all products are made with local raw materials of the highest quality and manufactured according to traditional processes.
Attention to quality and innovation are Atlante's main drivers for continuous research, so it can offer consumers better products in line with market trends.
Kionas and the new Greek cheeses
KIONAS, SAPORI DELLA GRECIA, expands its assortment with two authentic Greek cheeses.
The Kionas brand is one of Atlante's Greek speciality brands dedicated to the large-scale retail trade. It already boasts a full assortment of creamy Greek yoghurts in different flavours: natural, fruit, gourmet, and the very popular split cup.
The Kionas Greek yoghurt range is now joined by three new Greek cheeses.
The new products include a PDO Feta in a vacuum-packed and a light 'Feta' in a vacuum-packed.
PDO Feta cheese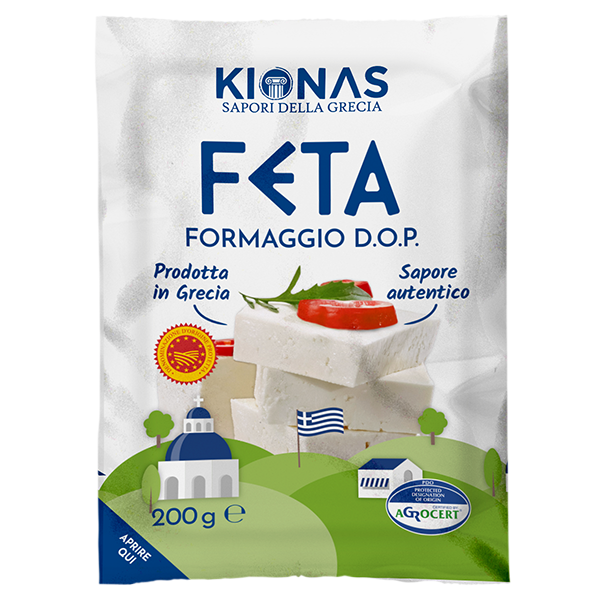 PDO Feta is produced using mainly goat and sheep's milk, and its production is limited to specific regions in Greece. Its success on the Italian market is due to several factors, such as its versatility, its unique flavour and compact texture, and its slight saltiness that makes it perfect for both sweet and savoury recipes and suitable for all seasons.
Atlante offers Kionas PDO feta in two formats: the classic vacuum-packed, which represent one of the two new references arriving on shelves, and the strategic anti-waste twin pack.
The 2x125g twin pack version, already present on the market, is a practical, innovative and strategic format. The packaging allows for single-portion consumption, thus preventing the product from losing its freshness once opened and adopting an anti-waste philosophy, in line with market trends.
The cubed version is a practical and innovative. It has been recently introduced to the market, and, unlike
Light 'Feta' cheese
Light 'Feta' is a lighter version of classic Feta. It has fewer calories and contains less fat than the original.
This product cannot be identified as Feta because the name itself is protected by a registered EU designation of origin. As such, it must follow specific standards such as the place of production or the ingredients used.
To prevent consumers from being misled, this low-fat version is commonly referred to as 'light Greek cheese'.
Kionas light Greek cheese differs from the PDO version only in its reduced fat content, as it is still produced in Greece and with a mixture of goat's and sheep's milk.
The development of a lighter alternative comes in response to the needs of consumers who want to watch their waistline without sacrificing taste.
Atlante takes consumers on a tour of Greece
Atlante, a Greek product specialist, enters the retail market with two new Greek cheeses under the brand name KIONAS, SAPORI DELLA GRECIA.
With the experience gained in the Greek speciality market over the past 10 years, Atlante is an excellent partner for its customers, who can count on a supply of innovative products of the highest quality.
The latest PDO Feta and light Greek cheese complement a broad and well-established assortment of Greek yoghurts. These new products will satisfy the tastes of consumers looking to bring authentic Greek flavours to the table.
To consolidate its market presence and increase awareness among consumers, Atlante has decided to invest further resources in the communication of the Kionas brand. In recent months, in fact, the Atlante marketing team has developed a new website and social strategy. From September, the Kionas brand will be online with a dedicated website and social profiles on the main channels such as Instagram, TikTok, and Facebook.