Atlante is the exclusive distributor for Italy of Cathedral City, the No. 1 cheddar in the UK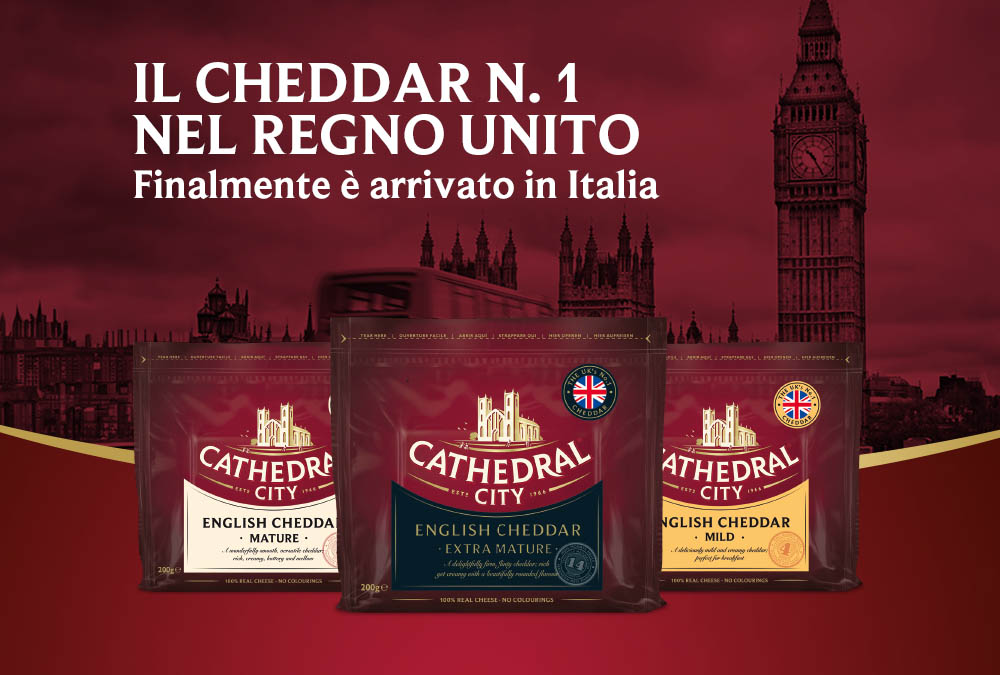 4 August 2023
We are proud to announce a partnership with Saputo Dairy UK, part of Saputo Inc., for the exclusive distribution in Italy of Cathedral City, the UK's most loved cheddar brand.
Atlante and the dairy world
Atlante has strong expertise in the world of cheese. We started exporting typical Italian products in 2014 and have been suppliers to the British chain Sainsbury's for years. We collaborate with leading dairy producers in Italy to offer innovative products and production sites that maintain the highest quality standards. Moreover, as Greece specialists for more than 10 years, we bring authentic Greek taste to the Italian market. All our products are crafted with local high-quality raw materials and produced using traditional manufacturing processes. As of this year, our Italian market assortment is further enriched with a comprehensive selection of cheddar cheese under the prestigious Cathedral City brand.
The cheese market
By the end of May 2023, the cheese market in total Modern and Discount Distribution in Italy exceeded €5 billion, reflecting a growth of +19% in value (Source: Nielsen, YoY as of 21.05.23).
Cheddar cheese is progressively gaining popularity among consumers worldwide, with a projected global market closure of $3.2 billion in 2022. Anticipated growth is expected in the forthcoming years, with the market estimated to reach $4.8 billion by 2030.
Saputo, a leading dairy company and the new sponsor of Bologna FC
Founded nearly 70 years ago by members of the Saputo family in Canada, Saputo Inc. currently produces Cathedral City cheddar through its Saputo Dairy UK platform. Saputo Dairy UK is a leading producer of British food and dairy brands. It produces and sells some of the UK's most loved food brands, including Cathedral City, Clover, Country Life, and Frylight, as well as specialised baby formula ingredients. It is part of Saputo Inc, one of the top ten milk producers globally. The Saputo family is also the new sponsor of Bologna FC.
Cathedral City cheddar is made from 100% English milk, sourced from the lush pastures in the south-west of England. The mild climate of these regions is ideal for the production of fresh, creamy milk. Cheddar is produced by the award-winning creamery in Davidstow, which relies exclusively on the milk supplied by 330 local farmers. The company's unique curing process, refined over 50 years, gives the product an exceptional taste and a rich, creamy texture.
The partnership between Atlante and Saputo
"We are particularly excited to bring the UK's favourite cheese brand* to Italy," comments Natasha Linhart, CEO of Atlante. "The Davidstow creamery, where Cathedral City cheddar is made, has an impressive track record of achievements, including winning the prestigious DuPont Danisco Grand Prix Cup 14 times in the last 18 years. We hope that Cathedral City cheddar will be as loved in Italy as it is in the UK'.