Atlante brings the taste of authentic basmati rice to Italy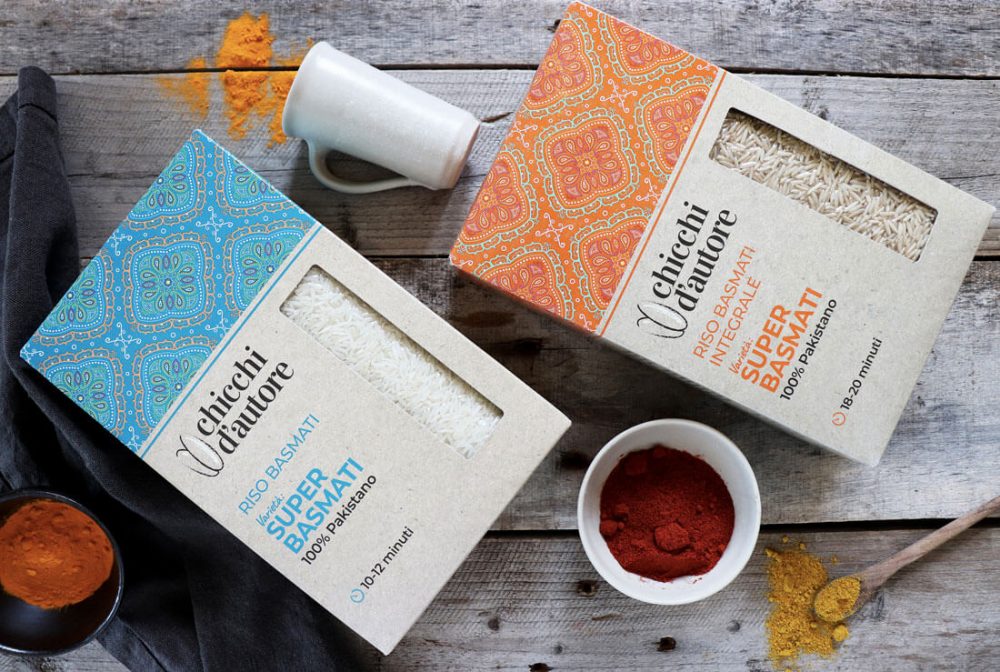 14 July 2020
The Basmati rice trend in Italy
According to Nielsen's data, Basmati rice is experiencing the highest growth both in terms of size (16% growth in comparison with 2018) and value (13% of growth in comparison with 2018), among the best-selling 14 types of rice in Italy. Italians love Basmati rice, because the attention they pay to the product taste keeps growing and the taste of this kind of rice is authentic. Originating from specific areas at the foot of Himalaya, between Pakistan and India, Basmati rice has long and slender grains and an intense aroma: indeed, in Hindi, its name means "grand aroma". Tasty, poor in fats and rich in magnesium, Basmati rice is easy and quick to prepare and is versatile on its own, as rice salad or combined with juicy side dishes.
Basmati rice Chicchi d'Autore, authentic Super Basmati grown in Pakistan
Atlante is always mindful of market trends and consumers' wishes. That is why we have launched on the market the new Basmati Chicchi d'Autore, consisting entirely of Super Basmati variety from Pakistan. It is available both in the white and in the brown versions. Grown in the fertile lands of Pakistan and naturally aged, Basmati rice Chicchi d'Autore is an extraordinary experience of aroma and taste, coming from a century-long tradition. Super Basmati is a variety highly regarded in Pakistan because it has all the typical features that make Basmati famous all over the world: a rich bouquet of floral and nuts aromas, a long and streamlined grain which increases significantly in size when cooked, and a soft buttery texture. Chicchi D'Autore is also the history of small farming communities that grown rice in flooded soil which helps plants against weeds. Our farmers live in the vast riverine plains of Pakistan, in small villages where work in the field alternates with rest, when, in the evening, it is possible to talk and drink hoax milk between voices of children playing.
The quality of our production chain
Thanks to a Pakistan-dedicated team, Atlante supervises the entire growing process up to refinement. In the relationship between communities and local producers is the secret of our rice quality. Our Basmati rice benefits from experience and wise work of our local farmers, implemented in compliance with the environment and the many men that have been enriched by this soil, drawing from it opportunities of life. Only the best grains arrive to the rice mill where they are dried and stored in burlap bags until the right level of aging and organoleptic maturation. In this way, rice is processed by latest generation machines set to refine the rice as it is done in its origin place, making perfect, white, tapered grains. A complex mix of physical and optical systems runs out foreign matters, defective and broken grains.  Atlante supervises the whole process with passion and dedication, until seals designation on the batches and their ship on the boat. Once in Italy, other colleagues wait for the rice, ready to storage it under the best conditions and organize the packaging without losing nothing from its original quality.
Care and dedication to packaging
The packaging, cared for in the smallest details by Atlante's graphic department, is meticulously designed to stress the authenticity of the product thanks to a floral and geometrical pattern with Oriental design. On the pack, it is possible to find two recipes which suggest how to cook the rice: one is the method more commonly used in Italy to prepare every kind of rice, while the other one is the traditional way to cook Basmati rice in order to exalt its qualities. The information level is completed by a series of curiosities about our rice and its origin. On the front, a clear square allows customers to see the beauty of Chicchi d'Autore, with its white and slender grains. The name Chicchi d'Autore shows we want to put on the shelf an authentic product, result of a long tradition and unique on the Italian market. Atlante's guarantee.