Vegamo assortment is expanding: the fresh burger is now on the shelves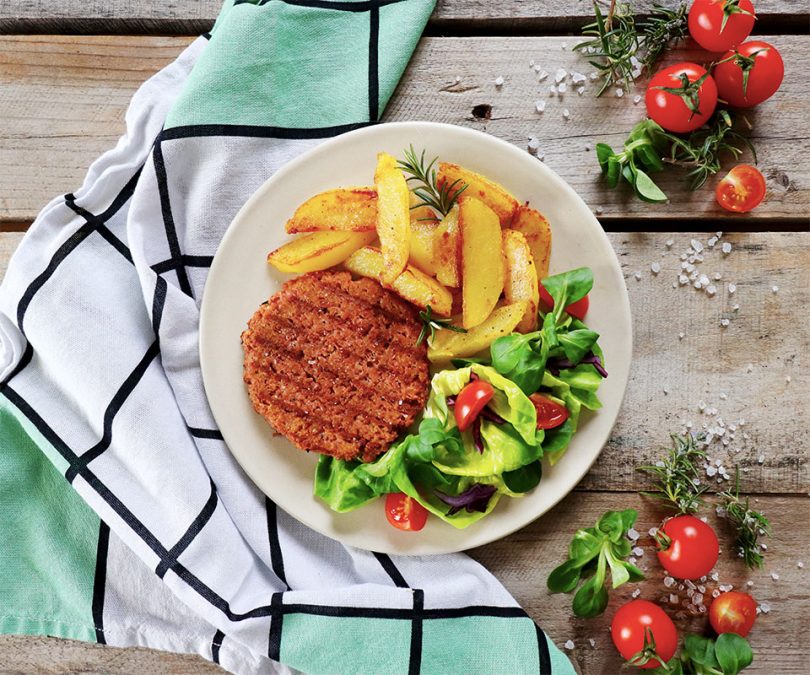 30 August 2022
Meat alternatives market continues to grow
In 2022 the plant-based market in Italy keeps growing and reached €588 Million value (NielsenIQ, MAT July 2022). Chilled meat alternatives are confirmed as the segment that drives the growth of the category: they are worth € 150 Million and continue their unstoppable growth, registering a +21% trend (NielsenIQ, MAT July 2022). In this context,  Atlante is one of the main players and continues to grow at a higher rate than the market average (+ 35%) and Vegamo confirms its position as a leading brand in the convenience store world.
More and more attention to flexitarian consumers
Eurispes data from this year signal a setback as regards the growth in the number of vegan and vegetarian consumers in Italy. According to this Observatory, vegans are 1.3% of the population, (in 2021 they were 2.4%) while vegetarians are 5.4% (in 2021 5.8%).
How can we explain the positive performance of the market despite these numbers? The answer lies in the number of flexitarian consumers, which are increasing more and more. Both omnivores who decide to reduce the consumption of meat and vegetarians and vegans who choose a less rigid dietary routine join this segment. At the moment there are no official numbers for Italy, but we know that around 46% of European consumers say they have reduced their meat consumption in the last year (SmartProtein, 2021).
Atlante launches the Fresh Burger
"To keep up with the needs of consumers and bring on the market products that can satisfy omnivores, in August 2022 we launched the Vegamo-branded Fresh Burger" says Dario Lavagna, Plant-Based Business Unit Manager in Atlante. "The taste and texture replicate meat, for a product that is juicy to the bite and satisfying to the eye. This launch is the result of the long work of our R&D department, which has developed an innovative and inclusive product: the Fresh burger is soy-free, with pea protein, gluten-free and allergen-free. It is also "fresh", as suggested by its name: our burger is neither pre-fried nor pre-cooked, as if it were freshly made! "
The Fresh Buger is available in MD, Dpiù and Todis.