Up front with Banco Alimentare for the 25th edition of "Colletta Alimentare"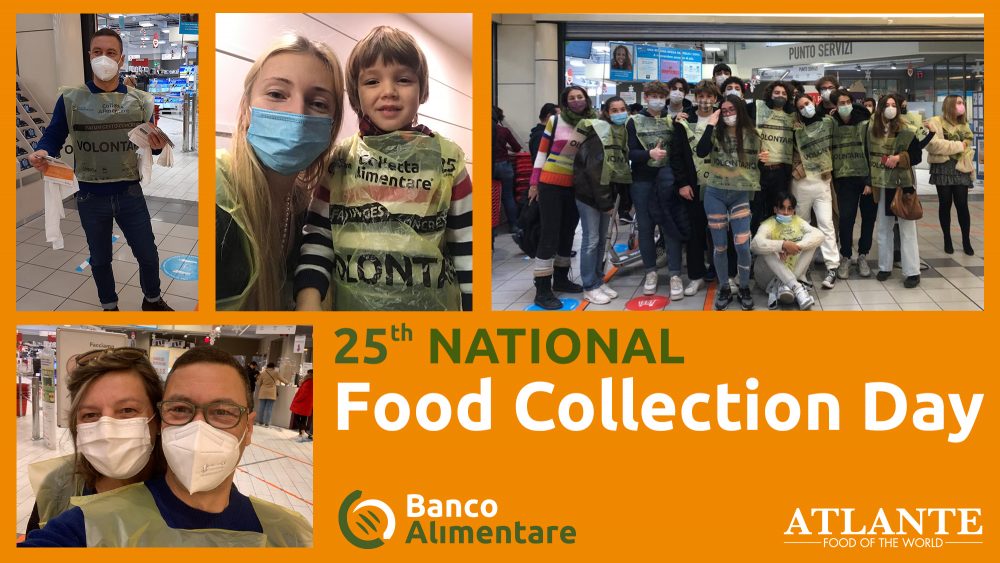 30 November 2021
Every day Banco Alimentare collects food surpluses to distribute to associations and charitable structures offering meals or food parcels to people in need. On an annual basis, on the last Saturday of November, Banco Alimentare organizes "la Giornata Nazionale della Colletta Alimentare" (the National Food Collection Day), in which volunteers give some of their time and energy to help answer a primary need by donating food to those who are in need. In line with this spirit, for many years, Atlante – always attentive to the theme of fight against food waste – has participated in the food collection with a large group of colleagues and family members.
"Since 2015, many Atlante employees have freely participated as volunteers in the "Colletta Alimentare" (Food Collection) which always takes place on the last Saturday of November. This year too, we were there: we strongly believe in this initiative because it exerts a strong impact on ourselves and provides a small but precious contribution to the endless need of those who do not have a meal every day. "– Enrico Santi, Quality Italy & Corporate P.T. Manager, comments – "For many years so far,  Atlante has been allocating  many food surpluses to Fondazione Banco Alimentare which continuously reaches the poor in our territory".
An enthusiastic support and an enriching experience
Now in its 25th edition, Colletta Alimentare 2021 has attracted the support of 145,000 volunteers distributed over 11,000 supermarkets.

Many positive comments have come from Atlante colleagues. Thus Anna D'Alessio, Legal Department Atlante, reflects: "The experience of the Colletta Alimentare helps to shift the focus from oneself to the others, from individualism to altruism. Experiences like this one are good and they should be more frequent. Among other things, I think it is a positive experience to meet your colleagues out of the office and share volunteer experiences: it creates a new and positive synergy in a context without any conditioning."
"It was a wonderful experience and an important moment of confrontation with hundreds of people who left me with the satisfaction of having given direct and immediate help." – comments Ivan Xavier, Strategic SC Manager Atlante.
"Having had the opportunity to participate in the Food Collection on November 27 was a great privilege because it gave me joy to be able to make a concrete gesture for those in need." – remarks Paola Diani, Category Manager – "Helping those in need makes us better people and I think we should stop more often to reflect on the meaning of this gesture."
The fight against food waste involves high school students
This year Atlante has chosen to bring a message of fight against food waste to schools as well by collaborating with the International School of Bologna on an awareness project and by involving high school students in the food collection held at Centro Lame in Bologna, where an amount of 2.900kg of food was donated!
Natasha Linhart, CEO of Atlante, comments: "Climate change is forcing entire populations to leave their lands to escape famine. At the same time, in more fortunate areas of the planet, we are confronted with the opposite problem, namely with the excessive abundance of food and food waste. Every year we waste 1.3 billion tons of food, equal to 40% of what we produce, which could feed 800 million undernourished people. Each of us in their small way can do their part, and most of it goes through information and awareness. I am really proud of the International School of Bologna students' commitment, these students have shown to be receptive to the topic and ready to give their contribution!"
The results of the 25th National Food Collection Day are important: 14 million meals donated to people in need, for a total of 7,000 tons of food. Online shopping continues until December 10th.