Rimini wellness: a success for the Atlante "GO FOR FIT" team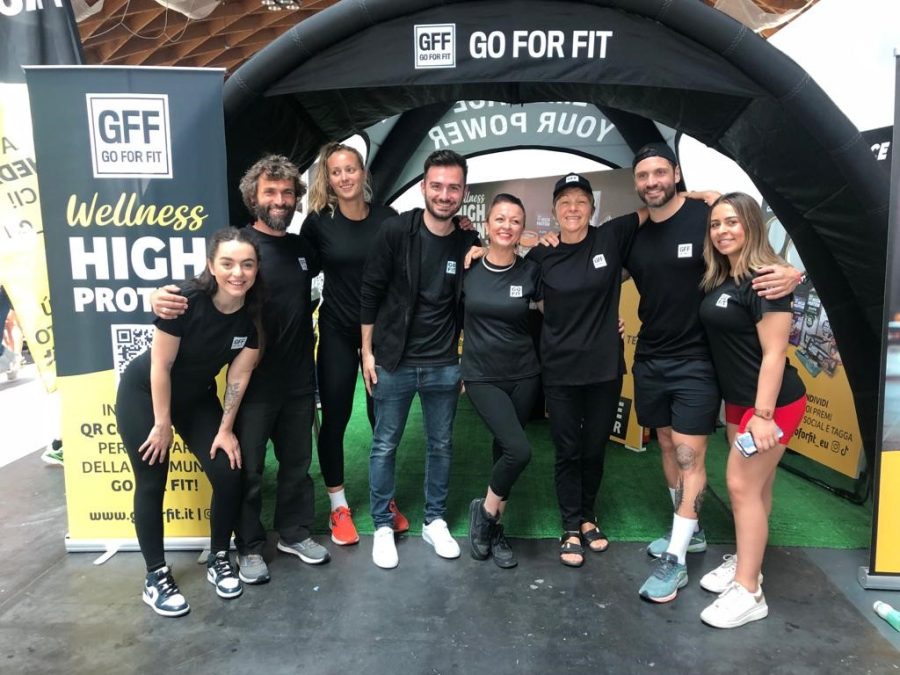 8 June 2023
From 1 to 4 June 2023, Atlante took part in Rimini Wellness, an event that livens up Rimini every year and is dedicated to the world of fitness, wellness, sport, physical culture, and healthy eating.
Rimini Fiera brought together all the major companies in the wellness universe (manufacturers of fitness machinery, gyms, schools, and protagonists of the food world), as well as thousands of participants and visitors, including amateurs, sportspeople, the 'sport curious', and fans.
Stand and participation
For four days, the Atlante team took part in the Rimini trade fair with a stand dedicated to the GO FOR FIT brand. Its aim was to make the brand and its range of protein products known to a wider audience. Paolo Alberto Pacini, Marketing Specialist, described the event organisation. "The stand was set up with various elements (inflatables, roll-ups, panels etc.) that gave it special visibility in the pavilion thanks to the graphics prepared by Simona DiMartino, Packaging Manager. The on-site team consisted of very dynamic hostesses and a coordinator who helped manage the stand, the challenges, and the various activities we did. The continuous flow of people kept us busy from 9 am to 7 pm. Elena Cattoi, KAM, who acted both as our salesperson with business customers and as a hostess, proved to be truly tireless in her interactions with whoever was in front of her, all while cooperating with others at the stand. Alessia Ristori, Export Supply Chain Assistant, was with us non-stop for two days and created beautiful Zillennial-proof content that guaranteed the constant involvement of numerous young people who took part in our competitions. She was then replaced by Silvia Nanetti, Digital Marketing Specialist, on the last day of the fair, who continued the activity started by Alessia in the previous days and lived up to the task perfectly. Elisa Tura, CMO, and Giorgia Tondini, Digital Marketing Manager, opened the event with all of us on the first day by giving us the right initial boost. Finally, I also partly helped and partly coordinated the event so that everything ran as smoothly as possible.
Fitness challenges with Matteo Braccani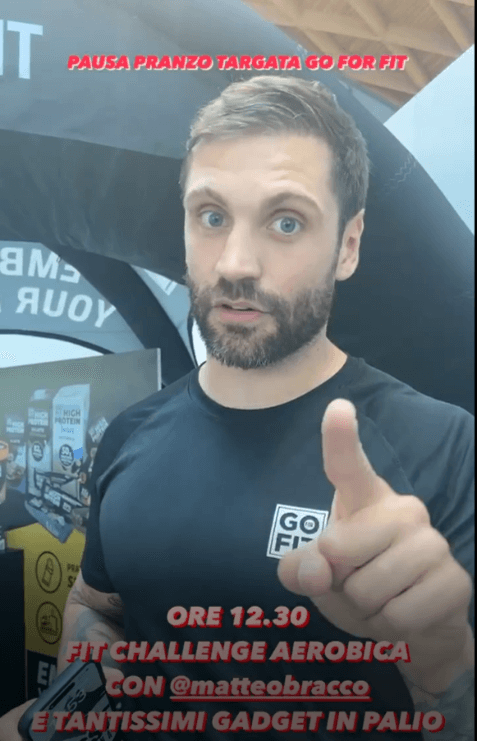 The atmosphere at the stand was totally in line with that of Rimini Wellness, with competitions and challenges taking place. Numerous participants took part by competing in circuits to win top positions in full sporting spirit. The special personal trainer who entertained and guided the participants was Matteo Braccani, a well-known personal trainer and public personality who attracted and involved many curious people in testing bodyweight activities. He promoted a fun atmosphere and the right competitive spirt by challenging participants to squats, push-ups, twists while holding a GFF pudding, and, a final plank challenge to exhaust and award the winners. All this was done in a large space, capturing the attention passers-by, and encouraging those who wanted to participate to stop by the stand.
"The sporting spirit was definitely present, and the challenges were so popular that they were widely requested by curious 'athletes' who wanted to put themselves to the test. So much so that we organised 24 challenges at the stand over the four days of the fair!  After each challenge we offered prizes containing GFF products and branded gadgets (shakers, t-shirts, and hats to name but a few), which were very much appreciated."
Positive feedback on products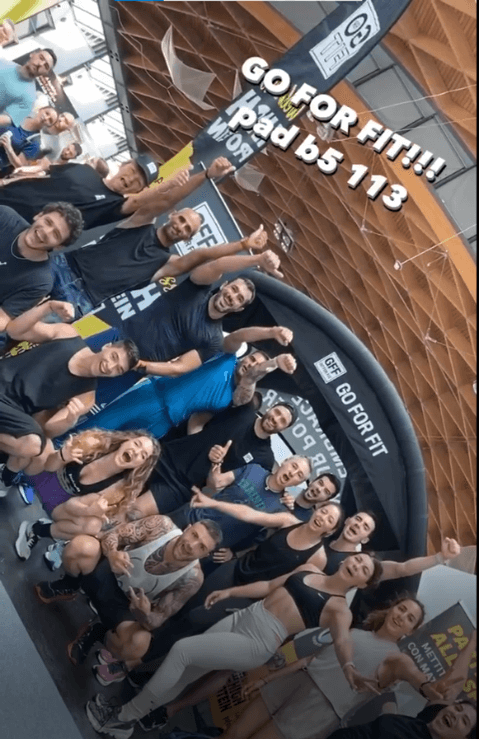 We received lots of feedback on the products, both from people who were already familiar with the range and who were perhaps trying something new, and from people who had never tried our products and were pleasantly surprised, if not enthusiastic. The taste of the products was mentioned frequently and won over many category-loyal consumers who found a new ally for their diet in GFF.
Highly successful & immediate results
"Looking at first results from this event, we can say that we interacted with approximately 7000 people at the stand, involving them in games, challenges, activities, and various other interactions to introduce them to our products. We managed to gain over 3000 followers on social media – an increase of 74%. The two graphs show the significant increase in profile visits (almost 5000), impressions, and reach during the event thanks to the content we shared. Needless to say, it was a success, and we would like to maintain and develop these numbers through new projects and content promoting the growth of GFF," concludes Paolo Alberto Pacini, Marketing Specialist.