Greek frozen yogurt, the irresistible addition to Pavlakis Greek specialties range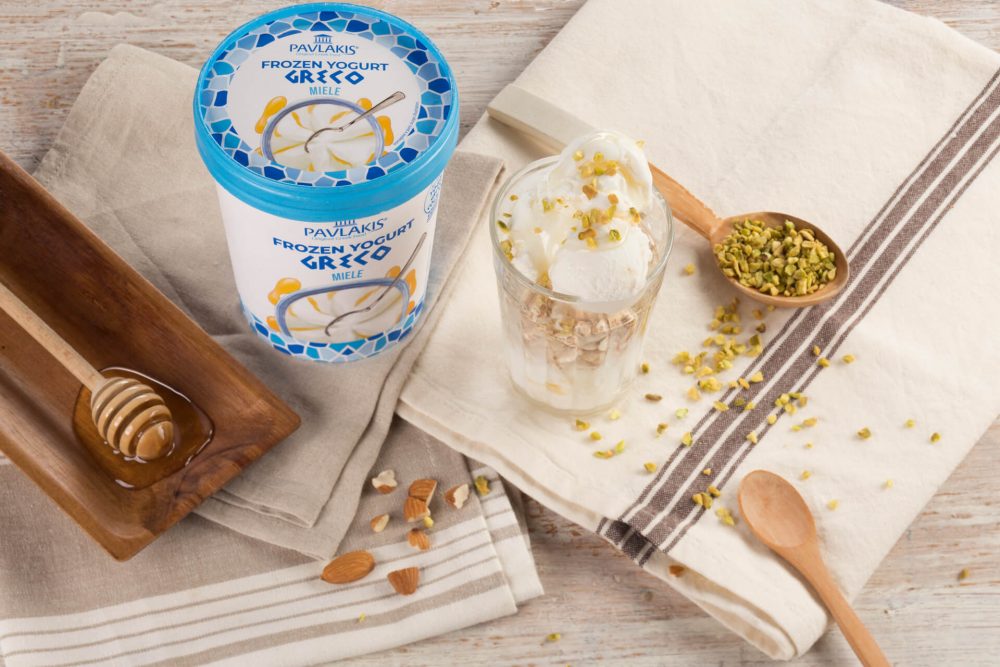 18 May 2020
The Pavlakis assortment of Greek specialties has deepened thanks to a cutting edge novelty that fits in perfectly with the current health and well-being trend: an ice cream made of authentic Greek strained yogurt, with 2% fat content, excellent nutritional values and a delicious taste.
Pavlakis brand is synonym of authentic taste that follows traditional recipes and includes a range of Greek yogurts, typical sauces such as hummus and tzatziki, feta cheese and, from today on, frozen Greek yogurt. The whole range is produced in Greece using milk from local farms and meets high quality standards to only offer the best of the Greek cuisine to our customers.
Nielsen highlights that consumption of Greek yogurt in Italy keeps growing, supported by the love for creamy products with a high content of proteins. Greek yogurt is, indeed, in line with the needs of modern consumers who want to follow a balanced diet without sacrificing pleasure. Our R&D department has intercepted this request: why not channel this trend into an innovative concept and transform our authentic Greek yogurt into an irresistible ice cream?
The long-lasting collaboration with our Greek partner, allows us to bring to the tables of our consumers a superior authentic Greek yogurt produced according to high-quality of standards and made 100% with Greek milk. Our experience in Greece, robust collaboration with the production site and the great success of Greek yogurt in Italy have enabled us to be among the first to launch a new and incredibly creamy product on the market: the Pavlakis Greek frozen yogurt, made with 2% fat Greek yogurt.
Delicious in its white original variant, Pavlakis frozen yogurt is also available in many other different flavours, all free of artificial sweeteners: honey, salty caramel, black cherry and chocolate. Addictive on its own, it can also be paired to fruit salads or cake, as a snack or dessert, whether alone or with family or friends.
Greek frozen yogurt is a light alternative to traditional ice cream: for example, our honey Greek frozen yogurt has only 3.7 grams of fat per 100 grams, versus an average of 10 grams in traditional ice cream. It is naturally richer in milk and shows a great balance between fats and proteins. That is why it is ideal for the most demanding consumers, who want a treat without compromising on the balance!
Its attracting packaging, with pronounced Greek connotations, has been accurately designed by our graphic department and is environmentally friendly. The jar, easily re-sealable, maintains its freshness, reduces wastes and is entirely recyclable in the paper bin.
The new range of frozen yogurt is designed to give customers a moment of creamy freshness and completes the Greek offer of our Pavlakis assortment.
The Pavlakis line is supported by integrated digital communication, thanks to a website, a Facebook page and an Instagram page where customers can be  inspired, stay up to date with all the news, discover numerous recipes and share their passion for the authentic Greek taste.