Atlante, the Greece specialist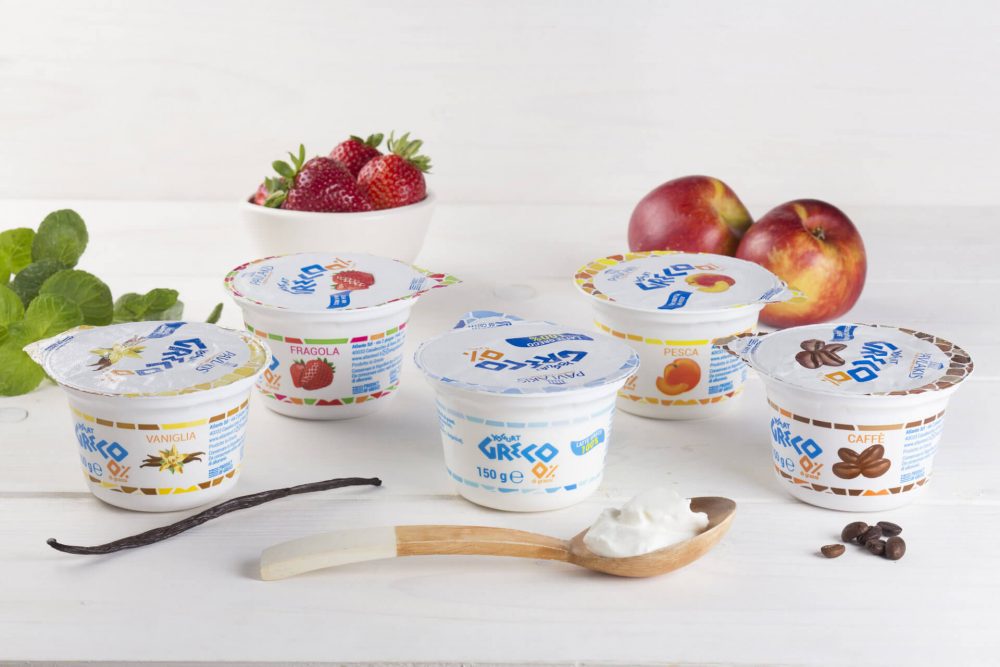 13 November 2019
Through its journey around the flavours of the world, Atlante brings to Italy all the authentic flavour of Greece with the Pavlakis line, entirely dedicated to Greek specialities: a wide range of creamy Greek yoghurts, tasty traditional feta cheeses and scrumptious typical sauces.
This wide range of Authentic Greek Strained Yoghurts includes several types of flavours, which are suitable for all palates at all times of day: we offer yoghurt with different fat contents, available in several sizes, as well as various combinations with fruits, and the appetising vanilla and coffee flavours. Customers seem to greatly appreciate our irresistible three-section honey and walnut yoghurt: the packaging allows you to mix Greek yoghurt with honey and nuts when opening, resulting in a cooler flavour and keeping the dried fruits crunchy.
All these different flavours have in common the authentic taste of Greek yoghurt, because of the production site, carefully selected by Atlante: located in the North of Greece, only Greek milk is used from local farms located nearby; this allows for very rapid processing and packaging of the product. The traditional Greek recipe is followed in order to produce dense and creamy yoghurt. The range of flavours has been selected in partnership the quality department at Atlante, which follows our producers in their projects and guarantees that high quality standards are respected.
In particular, the quality department at Atlante is constantly committed with our suppliers to continuous research on new project developments: the forthcoming novelties include duo Greek yoghurts, inviting bi-section yoghurts, with – on one side – authentic strained Greek 0% yoghurt, and – on the other – delicious fruit compote in various flavours, ready to mix when you open the package, for a tasty and fun break.
The attention to quality and innovation also characterises our selection of feta cheeses and sauces.
In choosing the different types of feta, Atlante has put all its effort in the search for products with an authentic taste, made in Greece following the traditional recipe for a delicately intense flavour. Our feta range, more specifically, includes four versions of this typical Greek cheese: traditional feta, which is available either as a block or in the diced version; feta with a low salt content, and oaky feta, which is left to mature inside special oak barrels. They are all delicious, ideal to be enjoyed on their own or for scrumptious recipes!
In choosing its sauces, Atlante has opted for a selection of traditional products which are much loved in Greece: hummus, which is a traditional chickpea cream with or without garlic, and tzatziki, a Greek yoghurt-based sauce. All Pavlakis sauces are irresistible, ideal as a starter or as a complement to delicate dishes; they come in a practical and stylish closable package in order to prevent any waste. For Pavlakis sauces, the traditional Greek recipe is closely followed, using state-of-the-art High Pressure Processing (HPP) for bacterial load abatement, resulting in a short and clean label based on genuine ingredients, with a cool and natural taste.
The attention and care paid by Atlante to the authenticity and quality of Pavlakis products, make them a unique range of specialties, an expression of traditional Greek flavour. As added value, Atlante is proud to introduce a website dedicated to the Pavlakis world, with a wealth of information on products in the range and suggestions for appetising recipes, ideal to keep abreast with all forthcoming novelties.