Atlante earned CRIBIS Prime Company 2021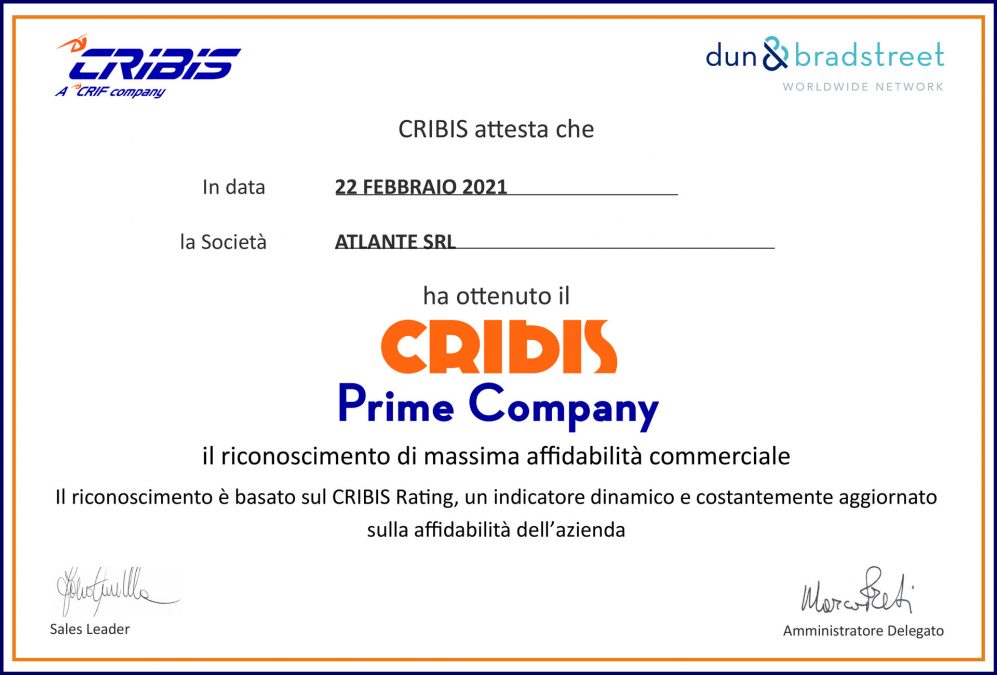 2 March 2021
In 2021 Atlante earned again the CRIBIS Prime Company. This certificate represents the highest level of evaluation related to the commercial reliability of an organization. This recognition is granted to companies that constantly maintain high economic and commercial reliability over time and are virtuous in payments to their suppliers.
CRIBIS is a CRIF company, a group specialized in credit and business information systems, which evaluates several parameters such as financial statement ratios, payment experiences, prejudicial information as well as personal data and details related to legal form, geographical area of interest, size and seniority of the company.

"Being evaluated for years as "Prime Company" is for us a reason of great pride, and it is a guarantee of solidity and present and future reliability for our partners" Sergio Picinini, CFO of Atlante Srl.
2020 has been a very peculiar year due to the global pandemic and the challenges that Atlante had to face, whilst always reacting promptly and proving once again that it can be a reliable partner in difficult moments. For Atlante, being part of the top 8% of companies that earned the Rating 1 from CRIBIS, is not just something to be proud of, but it also increases the desire to continue to succeed.