A NEW LINE OF GO FOR FIT PROTEIN BARS IS LAUNCHED ON THE HIGH-PROTEIN MARKET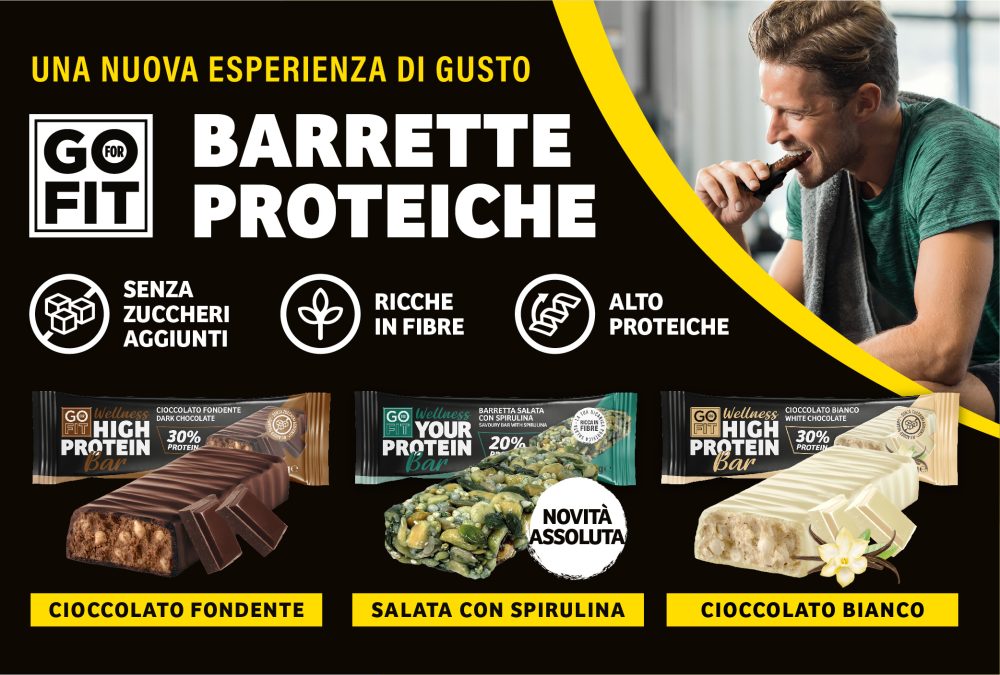 30 November 2022
With a trend that shows no signs of slowing down, the market for high-protein products continues to expand and remain open to innovation. On the wave of this global success and studying the growing needs of consumers, Atlante has launched a brand-new line of protein bars under the GO FOR FIT brand for those who enjoy daily wellness. These snacks are designed both for those who are physically active and for non-athletes who wish to supplement their daily protein requirements without sacrificing taste and whole foods. Plus, they are easy to carry with you at all times. The GO FOR FIT protein bar line includes three products: two sweet bars (dark chocolate and white chocolate) and one savoury bar with spirulina.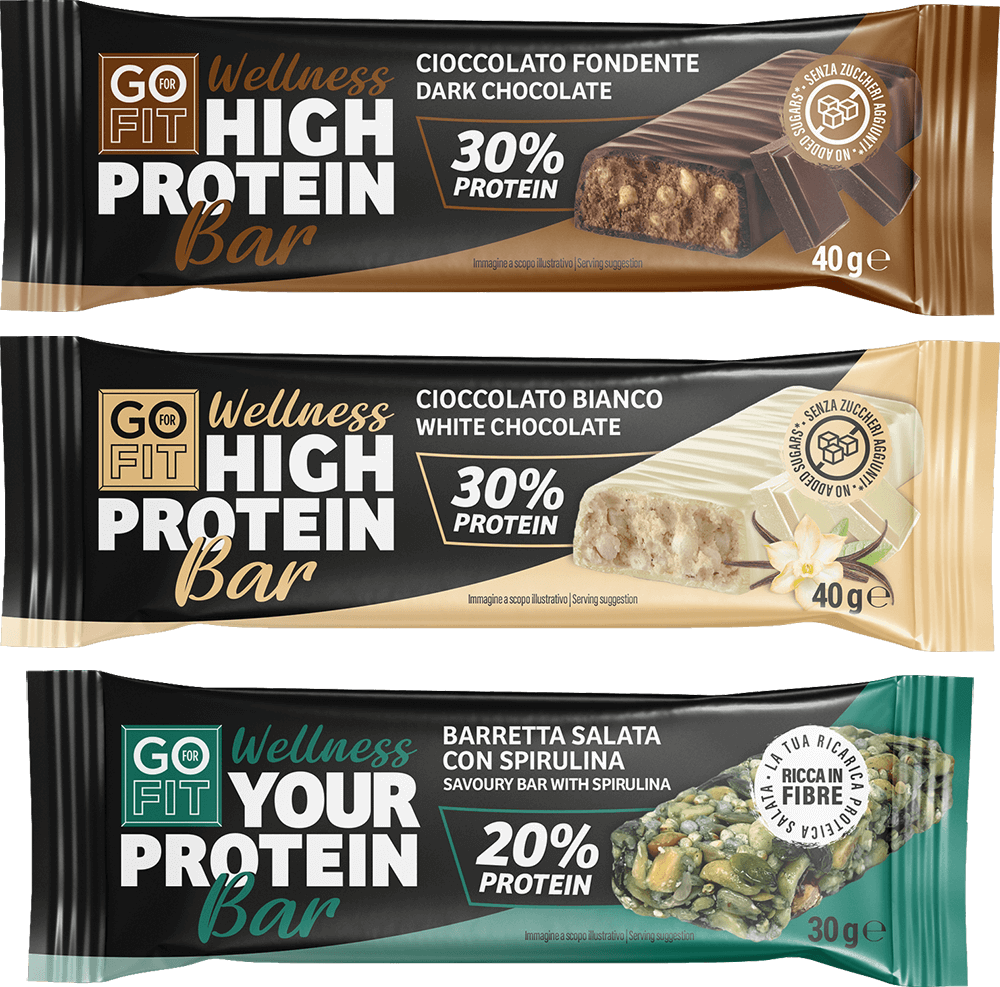 The dark chocolate and white chocolate protein bars contain the same ingredients. These two bars are both gluten-free and with no added sugar, with a high fibre content and around 30% protein, essential for developing and maintaining muscle tone and mass.
To meet the needs of a growing group of health-conscious consumers who require products with balanced nutritional profiles, Atlante's R&D department has developed a tasty new offer for discerning palates: the savoury protein bar with spirulina. An absolute novelty, this bar has just been released by Atlante on the Italian market and contains around 20% protein. It is enriched with the crunchy flavour of peanuts, pumpkin seeds, sunflower seeds, almonds, quinoa, flax, flaky sea salt and spirulina both in the crust and in the mixture, which gives it its unique colour. The GO FOR FIT savoury protein bar is entirely based on plant proteins and is also rich in fibre with no added sugar.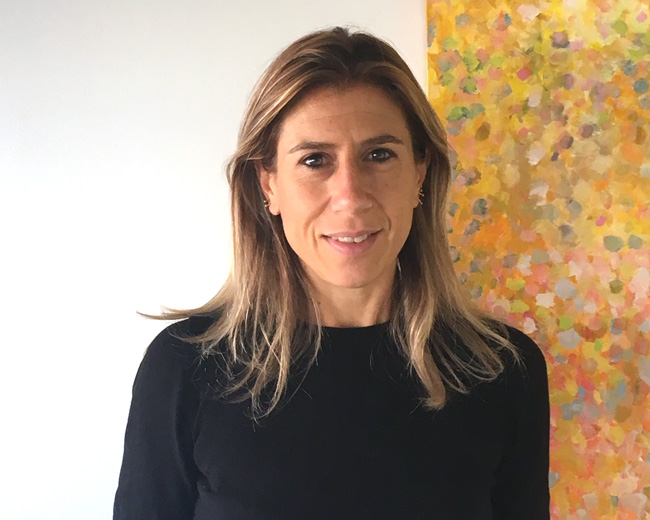 "For the first time, we are presenting a high-protein savoury snack on the market," commented Giovanna Chiarini, Head of Procurement at Atlante. "This choice is aimed at meeting a precise market demand: that of savoury high-protein products that can be used in a versatile way throughout the day ­– as a meal replacement, snack, or for a quick bite – without compromising on wellness and physical fitness."
When should you eat protein bars?
Combined with the right foods, protein bars can provide up to 50% of your daily protein requirement. They are a perfect meal accompaniment and can also be used as a lunch alternative or as a healthy snack.
Protein bars are very good for snacking or meal replacement to maintain a protein-rich, low-carbohydrate diet while helping to maintain muscle mass. Ideally, they should be eaten as a post-training snack or, in some cases, as a meal replacement. However, they should not be used daily but should be alternated with other nutritionally complete products.
A growing market
The protein food category in Italy continues to grow with a doubling of market penetration in the last year, and the 'protein' claim dominates the 'rich-in' world, marking the most significant increase in sales. In particular, analysing the most successful segments of the category, protein and energy bars recorded the most significant growth (+47% in the last year for a market value of approximately 53 million euros), which is destined to continue in the coming years.
About GO FOR FIT

The average consumer is increasingly busy and well-informed. They are attracted to high-protein products to successfully balance their diet through a high protein intake without sacrificing taste and convenience. GO FOR FIT is an Atlante brand that encompasses a
The GO FOR FIT range is cross-categorised and supported by multi-channel marketing activities. We are online with a dedicated website and with a lively digital following on our Instagram and TikTok pages.
STAY TUNED WITH THE LATEST NEWS FROM THE GO FOR FIT RANGE!
GO FOR IT, GO FOR FIT!